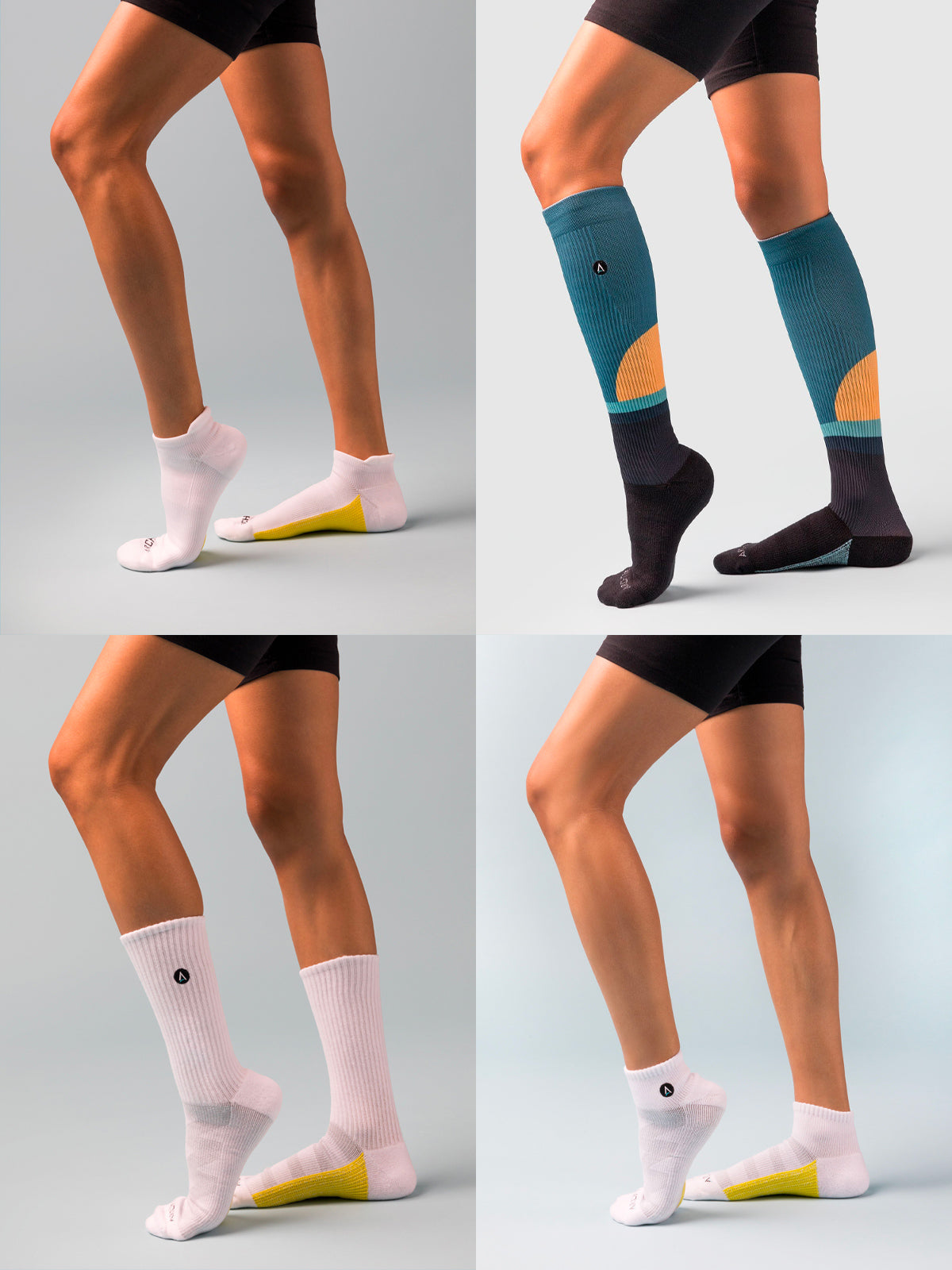 Arch support dress socks
Men's Dress Socks with Arch Support
Suffering from pain and discomfort in your foot throughout the day could mean you don't have adequate arch support. Why not try ArchTek® men's dress socks with arch support? With a 5 layer weave design, our socks have the same support as therapeutics and complement the natural motion of your foot to provide relief and comfort the whole day through.
Wear ArchTek® dress socks while you're at work and when socializing, then switch to our athletic socks for periods of exercise. Whatever your day brings, have confidence that your feet will be pain-free and comfortable when you have ArchTek® socks. Read More
The Men's Dress Socks with Arch Support Your've Been Searching For
When standing for long periods of time or during bouts of activity, insoles and orthotics are usually prescribed as a way to alleviate pain but due to their static nature, they often bring about restrictions in the shoes can be worn with them.
ArchTek understood these restrictions and began innovation with a goal to incorporate the same medical benefits of these inserts into arch support dress socks - elasticated material that 'hugs' the shape of your foot and moves in sync with your muscles.
Since discovering this could be a reality, our founders took apart the sock and rebuilt every aspect from the ground up; enhancing and improving each component as they went. Fast forward to today and ArchTek is proud to provide customers with varieties to suit every occasion in multiple colors and styles.
Benefits of Choosing Arch Support Dress Socks
Buying ankle support socks that have built-in arch technology is highly beneficial in reducing the pain and discomfort that comes alongside long periods of time on your feet. The technology that is built into these support socks ensure that they:
Provide stability and help to improve your posture
Evenly distribute pressure throughout the foot to help ease conditions such as plantar fasciitis
Our plantar fasciitis socks reduce the risk of injury during activity by spreading the shock impact throughout the foot
Whether exercising, working or simply going about your day to day business, arch support socks are a great ally to ensure your day is not compromised or cut short.
ArchTek's Unique Technology Woven Into Men's Dress Socks
Our socks are truly a 'first of its kind' design. Patented by Dr Bob Baravarian, a highly qualified foot and ankle surgeon with decades of experience, our arch support system is incomparable and technologically ahead of the industry. This, alongside 5 other elements compose the perfect sock. These are:
Leg compression - increasing the flow of blood and oxygen to reduce swelling and fatigue
Seamless toe caps - to minimize sweating and for added comfort
Energy return system - maximizing longevity and energy levels by reducing fatigue
Left and right design - our socks have a foot-specific design for improved fit
Anti-microbial material - our antibacterial yarn ensures your feet are fresher and free from bacteria
We have designed compression socks for sports recovery as well as support socks for women with specific arch modifications for each gender sewn into the arch.
For top of the range men's arch support dress socks and athletic socks that provide the utmost support and comfort without compromising on style, shop with ArchTek! Read Less