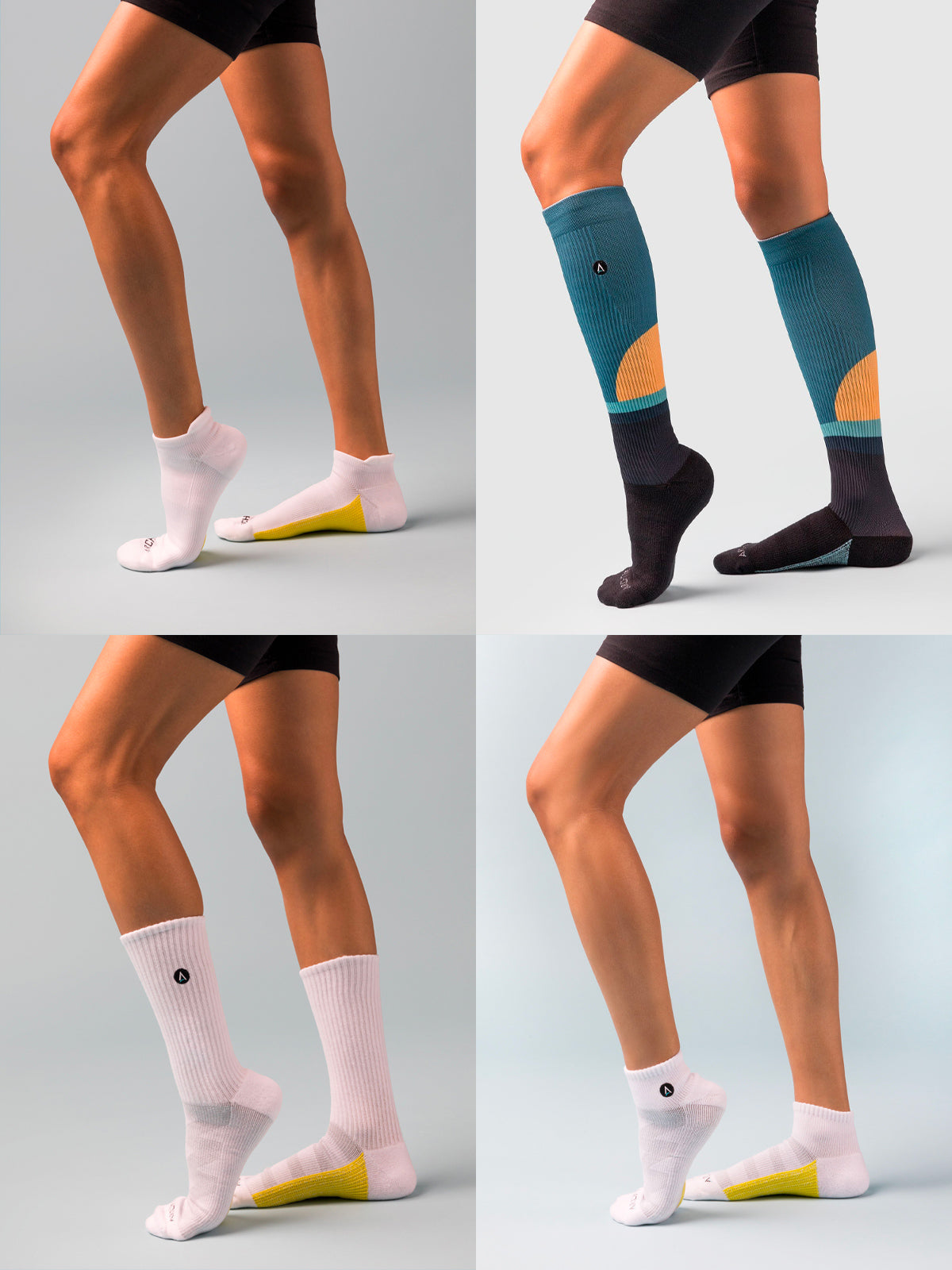 Sports Recovery Compression Socks
Compression Socks For Sports Recovery
In recent years, it has become more common for active individuals to wear compression socks for sports recovery. Originally designed to reduce swelling, compression socks can increase blood flow and circulation around the foot and leg, reducing the risk of delayed onset muscle soreness (DOMS) and ultimately speeding up recovery time.
For a sock that not only provides compression but has 5 additional elements; energy return system, arch support, anti-bacterial material, left and right design and a seamless toe cap, choose ArchTek. Read More
Have You Tried ArchTek® Compression Socks for Sports Recovery?
Alongside athletic and trainer socks, we have colors and styles to suit every occasion at affordable prices. However you are spending your time, you can be assured that ArchTek® socks are there for you, providing comfort, support and relief that lasts the whole day through.
Benefits of Choosing Sports Compression Socks
Anyone with an active lifestyle can benefit from wearing compression socks. There are numerous advantages to incorporating these into your life, especially if you are spending long periods of time on your feet.
They are designed to increase blood circulation and the flow of oxygen to the muscles throughout the leg and foot. This increase can be very beneficial in reducing the build-up of lactic acid when exercising. Excess lactic acid causes muscle fatigue and discomfort which can have a negative impact on performance.
The use of compression socks for sports recovery is becoming widely incorporated within the industry. Positive benefits include the reduction of swelling, soreness and stiffness after periods of activity, especially if worn beyond the time of exercising. ArchTek® has produced compression socks in a variety of styles and colors to ensure that they can be worn throughout the whole day, not just during exercise. This provides users with confidence, comfort, and ongoing relief.
Discover More About ArchTek Recovery Compression Socks
The technology behind our socks was patented by Dr Bob Baravarian; a foot and ankle surgeon with over 20 years of experience. He decided that most insoles and orthotics restricted the variety of shoes that could be worn with them, so he engineered a sock that provided the same technology, support and relief.
He began taking apart the regular sock, analyzing every aspect and making enhancements and improvements with the help of ArchTek's co-founder Eddie Kohan. Together they designed and manufactured the perfect sock, incorporating key elements to ensure it performed in a similar manner to therapeutics without compromising on style.
Our patented arch system comprises a 5 layer weave moves with your muscles to provide incomparable support and comfort. Other features include material made from anti-microbial yarn which ensures your feet stay fresh throughout the day, seamless toe caps to provide added comfort and reduce sweating, and an energy return system which reduces fatigue.
Buy Your Compression Socks For Sports Recovery Online Today
We have designed support socks for men and support socks for women with specific arch modifications for each gender sewn into the arch.
For quicker recovery and all-day support, try ArchTek® compression socks. Our unique technology and stylish designs ensure we have socks to suit every occasion. Shop with us today! Read Less