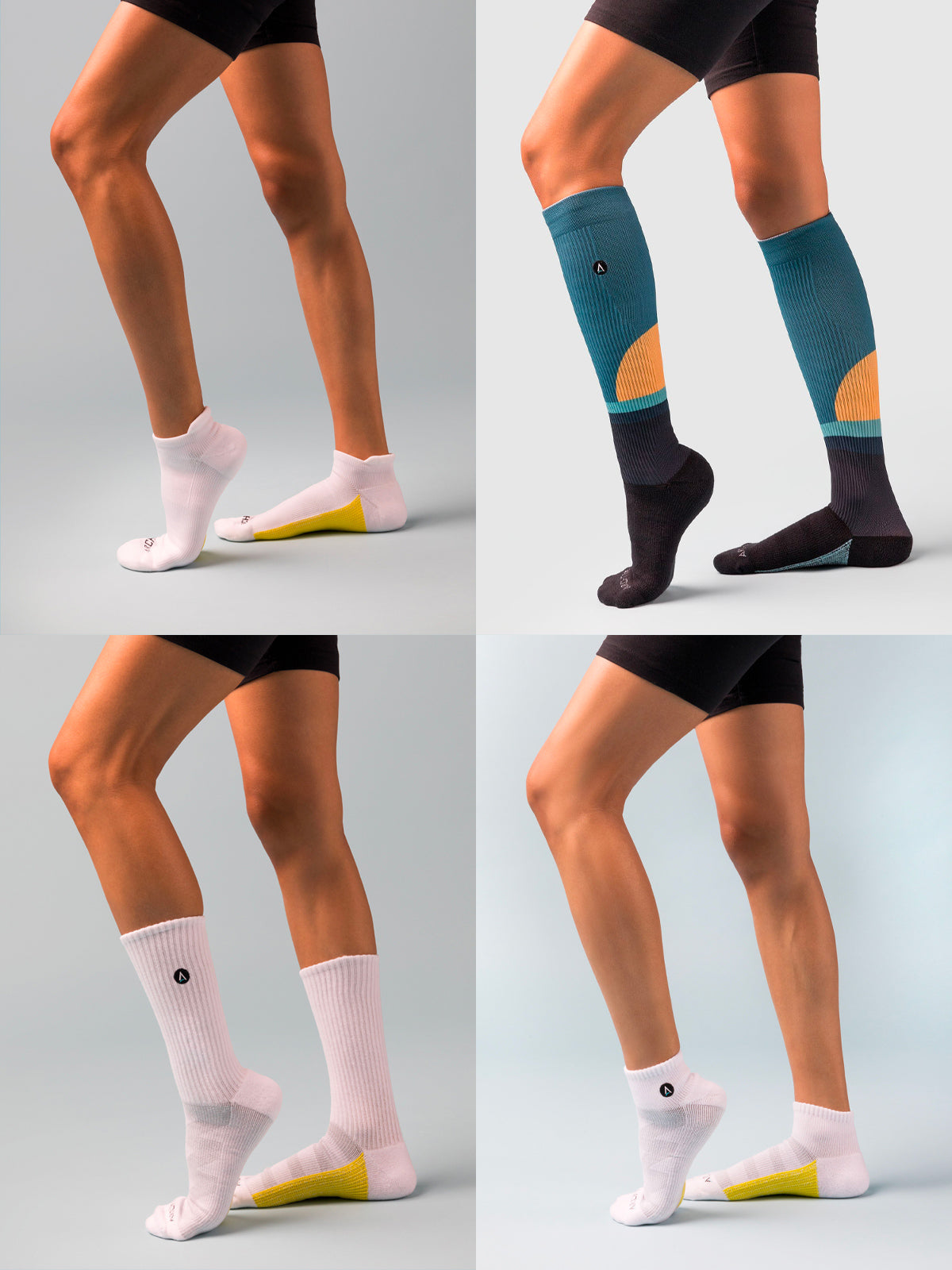 Compression support socks for women
Support Socks For Women
There is nothing worse than having painful feet. It can be debilitating when you have to be on your feet all day, whether that is for work or just because you want to maintain a healthy and active lifestyle. With support socks for women from ArchTek, you can have the support you need and be able to get on with your day.
With ArchTek® socks, you can still be stylish while receiving the support that you need. Who said that you cannot have it all? Read More
What makes ArchTek® Support Socks for Women right for you?
Our socks are fantastic for those that suffer from foot pain. Even if you are just wanting to avoid foot pain, socks from ArchTek are the way forward and they can ensure that you keep your feet as healthy as possible. If you suffer from foot problems such as plantar fasciitis, our support socks for women can help.
These specially designed socks were created by foot and ankle surgeon Dr. Bob Baravarian who has practiced for over 20 years. As an experienced surgeon, he created ArchTek® medical dress socks for women to overcome the issues from insoles and orthotics in shoes that did not fit insoles well enough. Partnering with Eddie Kohan, a designer and manufacturer, they went out to create the best supportive socks on the market.
This was done with a patented 5 layer support arch. This support arch acts in a similar way to an insole but you will discover that it fits your foot a whole lot better, giving you much better support.
As well as support, you will also find that ArchTek® socks provide you with the most comfortable fit you have experienced. How? We removed the irritating toe seam and used antimicrobial yarn. We added our trademarked energy return system, and this reduces strain on your feet. Along with this, we have also added leg compression to reduce swelling in your legs. Rather than having interchangeable socks for each foot, we have made a left and a right compression support socks for women.
In F-scans, our studies have shown that foot function is improved through the use of ArchTek® socks with a reduction in foot strain and pressures, along with improved arch support while wearing the socks.
Support Socks Without Compromising on Style
At ArchTek, our mission is to create socks that give you the medical benefits that you need but with none of the medical looks about them.
You can enjoy wearing ArchTek® socks every day because we believe that everyone deserves to have comfortable feet. To help you achieve this, you can buy our socks in packs so that you have enough to wash and wear.
You can read what some of our customers have thought about our socks on our website and discover more about why people love to wear them. We have designed compression socks for plantar fasciitis as well as arch support socks with our patented arch support technology woven into the socks.
When you get to the end of the day, you can enjoy still having energy left thanks to ArchTek® socks. Try yours today and you will not look back. Read Less