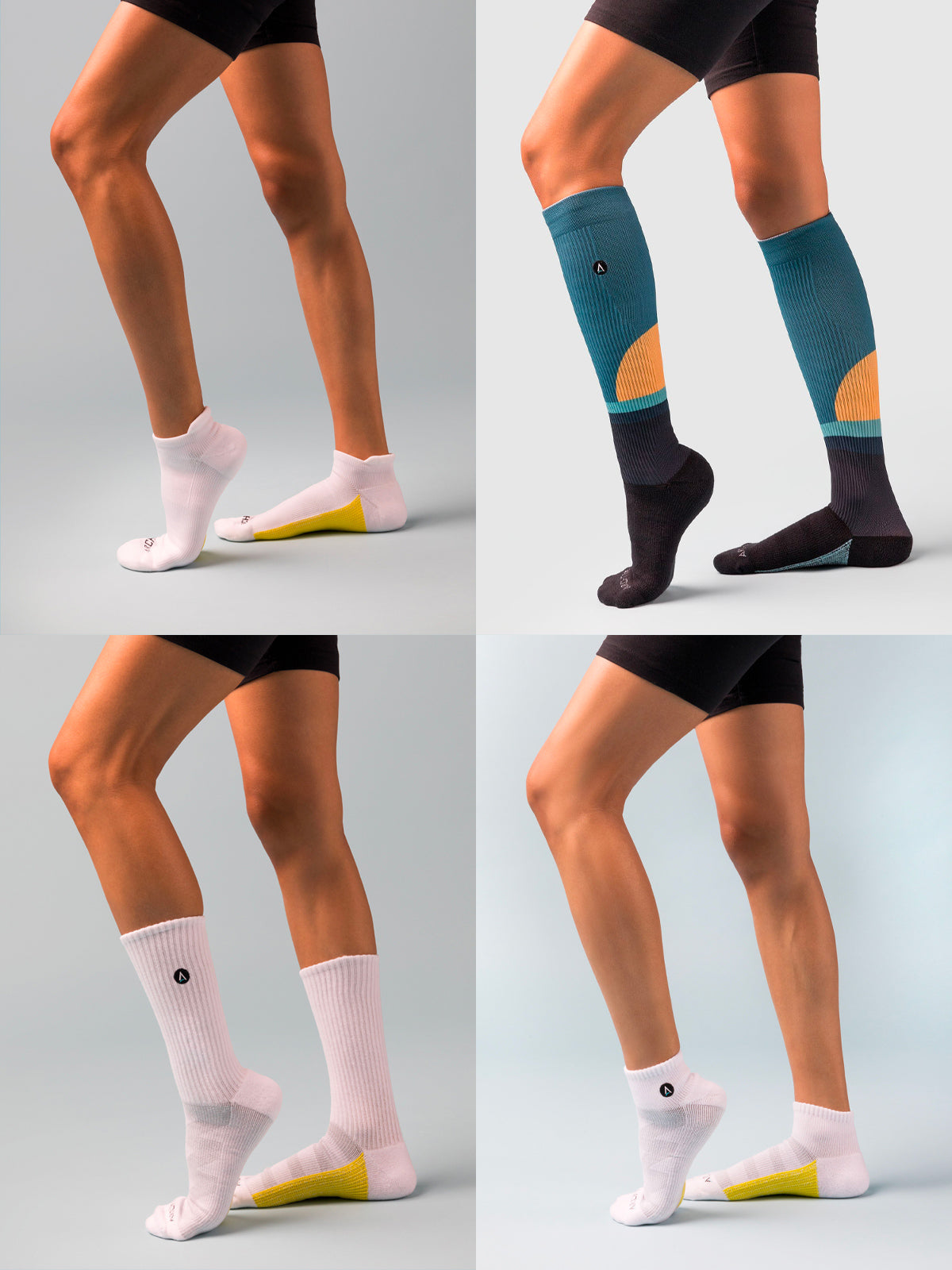 Men's running compression socks
Men's Sport Compression Socks
When playing or competing in sports of any kind, you want to be at the top of your game. Foot pain or swelling in your legs can prevent you from doing this, which is why you need men's sport compression socks to ensure you get the support that you need.
ArchTek® socks have been designed to provide you with a comfortable and supportive solution while you are keeping active. Best of all, they have been doctor-designed so you can trust that you are giving your feet the best possible care. Read More
Why Wear Sports Compression Socks from ArchTek?
ArchTek® socks have been created with our patented 5 layers dense arch material that acts like an insole within a shoe but has a much better fit. With the right arch support, you can look forward to having better stability and pressure that is distributed throughout your feet, which can reduce strain and any pain that you may be feeling. As the socks move with your foot muscles, you can maintain the optimum strength with each stride.
Along with this, they also have added leg compression, and this can reduce any swelling in your legs and ankles, allowing you to continue in your sport without the pain associated with this. The compression also helps your blood flow and circulation.
You can be sure of a comfortable and ideal fit with a specific design that takes into account your left and right feet. We have also removed the irritating toe seam that you find on regular socks and replaced them with antimicrobial yarn.
Who Designed Archtek Men's Sport Compression Socks?
These men's sport compression socks were designed by Dr. Bob Baravarian who has had over 20 years of practice experience as a foot and ankle surgeon. After discovering that insoles and orthotics in shoes did not fit well, he came up with another way to provide the support that people who suffer from pain in their feet need. By completely redesigning the sock and joining with Eddie Kohan, a designer and manufacturer, they have reinvented the way that sport compression socks function and look. Now, you can have the compression that you need without looking like you are wearing medical socks or shoes.
Be Comfortable in Sports with ArchTek® Socks
You can order your socks directly from ArchTek online today and you will soon be discovering just why our customers love our sport compression socks. You can read what they think about our socks on our website and discover more about how our products have helped them to continue doing what they love.
We have also conducted research into the medical benefits of our men's running compression socks. F-scans have found that when wearing socks from ArchTek, there is a reduction in foot pain and pressure. They also showed that there is improved arch support when the socks are being worn compared to when they are not in use.
Stay Active with Archtek Sport Socks
At ArchTek, our socks can help to keep you healthy and active. We have designed arch support running socks as well as copper infused magnetic foot support compression socks with our patented arch support technology woven into the socks. Order yours today and experience the difference for yourself. Read Less