Navy/Orange 2-tone Dress Sock
Navy/Orange 2-tone Dress Sock
ArchTek® Dress Socks feature our patented energy return system and six elements of sock perfection.  Exercise with long-lasting comfort, thanks to our patented arch support.
Benefits:

Patented doctor designed 5 layer arch support system

Dynamic y-strap energy return system

Form fitting leg compression

Seamless toe closure

Antimicrobial coating

Right and Left specific design
Materials: 62% Cotton; 35% Nylon; 3% Spandex
30 Day Money Back Guarantee
Feel the instant difference on your money back.
Doctor Designed
Our patented arch support socks were designed
by foot and ankle surgeon, Dr. Bob Baravarian.
Free Shipping
We offer free shipping on orders over $45
More Than Just Socks
OUR PATENTED PROCESS
We had to break it down to build it up better! Here's the lowdown on perfection. We thought of absolutely everything so that you don't have to think about foot pain ever again! Your body presses down on your feet all day, but ArchTek® socks oppose gravity in a completely revolutionary way!
ARCHTEK® ARCH SUPPORT
We patented a brand-new technology for the 'heart' of our sock called dynamic arch support. It's a first of its kind 5-layer weave that takes the place of an insole. The sturdy weave maintains arch support and stabilizes the overall foot structure all day long without weakening the muscles so you can stay active without strain or pain in your feet.
SEAMLESS TOE CAP
No more bumpy toe feel! We've removed the toe seam to make the sock infinitely more comfortable and breathable for your toes, letting your feet feel free and unencumbered, ready to last the whole day through.
LEFT & RIGHT DESIGN
How can one sock fit two feet? Well, we believe that the cut, padding, and stitching of each individual sock complements the unique shape of each foot. After all, shoes are left and right specific! Why not socks? Discover the better fit and improved comfort this brings – and don't worry about figuring out which is which – we've sewn the words into the top inside of each sock.
TRADEMARKED ENERGY RETURN SYSTEM
Our Y-strap technology is built into each sock. This trademarked knit-in compression system is designed to reduce foot fatigue while improving the energy & longevity of your foot structure throughout the day.
ANTI-MICROBIAL MATERIALS
Perfect socks require perfect yarn! We've sourced the absolute best premium quality antibacterial yarn to make ArchTek® socks, so they're not only soft and comfortable, they keep your feet smelling great! Our anti-microbial coating also extends the life of your socks by limiting the effect & growth of bacteria.
FORM-FITTING LEG COMPRESSION
Our leg compression is guaranteed to prevent leg swelling and reduce foot fatigue. The trademarked knit-in compression system built into each one of our socks. Get the spring in your step back by increasing the longevity of your foot structure throughout the day!
Customer Reviews
05/28/2020
Anonymous
United States
I recommend this product
Incredible sock
The most comfortable sock ever.
05/14/2020
Anonymous
United States
I recommend this product
Great sock.
I just received my socks and the are great! Very supportive on my calf's, ankles, and most importantly, my arches. I wore them in my old unsupportive shoes and it felt like my shoes were new again. I need to buy more!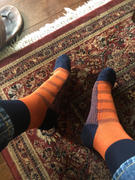 Thank you for your comments! We love to hear great things about our technology. Enjoy your socks!!